Lists are important. Real men are defined by lists and I cannot emphasise that enough. Lists exist to bring order to the world as well as setting the bar for what every might follow. With films, lists are a means to explore the true quality found in film-making and the worst crud available.
Sci-fi and horror have always gone hand in hand. This allows film-makers a gateway to come up with the most ridiculous, violent and even comedic deaths as there are rarely any boundaries with sci-fi horror, only what the writer can imagine.
Below are my personal favourite deaths by an Extra Terrestrial creature. Feel free to leave a comment if you want to add to the list as I'm always on the lookout for the next best 'Death by Alien'.
10. Independence Day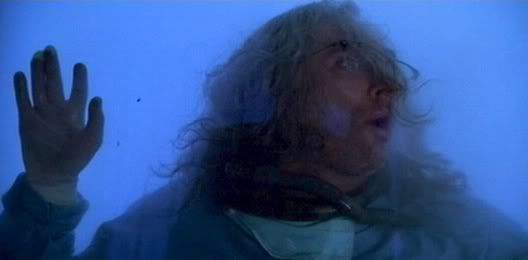 If you wipe all the gung-ho bullshit from this film, it's actually OK. The aliens in Independence Day were pretty cool and WAY under-used. Zombie Dave offered up this one. The death of Data from Star Trek, sorry, the death of Dr Brackish Okun, a mad scientist killed by the very aliens he'd been researching for 40 years. This was a great little horror scene in an otherwise fairly straightforward big-budget sci-fi film. The set up is perfect. Remember where the chest explodes open? Then our Alien friend gets free and kicks some ass before slowly strangling Data, sorry, Dr Okun, to death while using him as a human puppet to give voice to his race's nefarious plot.
9. Starship Troopers
Heaps of interesting deaths, here. Starship Troopers is Paul Verhoeven at his best. A Sci fi gem, the award for best death in Starship Troopers goes to the magnificent Michael Ironside. Ironside's Rasczak is pulled underground by a rogue 'bug' and chomped from the feet to his waist and pulled from the jaws of a bug, minus some key limbs. Being a fiercely proud military man, he demands that his young charges put him out of his misery, something that they duly accomplish via a shot to the chest.
And they say there is no compassion in horror…
8. Tremors
Poor shop owner Walter Chang gets it bad when he makes too much noise and receives a death not to dissimilar to that of Robert Shaw's Quint in Jaws as he is dragged in the mouth of a hungry Graboid and pulled through the floor of his grocery store. Tremors is your classic B-Movie horror comedy. Great characters and great original ideas and constantly fun for the full duration. If you haven't seen this then there is something wrong with you. It's like watching Jaws on land.
(ps. Some may argue that Graboids are prehistoric worms and not aliens, however, anything with 'oid' in the name is alien in my book)
7. Return of the Jedi
The Rancor. The first time you saw this as a kid, you couldn't help but think that little Luke didn't have a hope in hell of beating this beast, but ultimately Luke defeats him with a simple rock, most trusted of Jedi weaponry. Sadly,  the same cannot be said for the poor Gamorrean guard that gets turned into dinner very quickly and slurped down.
Being eaten alive could be a very bad way to go.
6. Critters 2
Ah. The Crites. Galaxy-devouring balls of furry mischief. Picture the scene, a large ball of Critters emerges from a burning barn only to chase the local townspeople into the fields. Sadly, one poor straggler has the misfortune to fall and be run over by the huge ball of ravenous fur and teeth, leaving him stripped of all clothing and flesh. This is a personal favourite of mine. I couldn't stop laughing. For those of you who have not seen Critters, check it out.
5. District 9
I nearly went with the death of Mumbo. You know, where he gets the explosive charge lodged in his temple only to have his head explode in true Scanners style? However, the prize for best death in this movie goes to the films primary antagonist, Ventor. Ventor's rage and disgust for the 'prawns' is evident throughout the movie. So we come to the final battle. Protag v Antag. Ventor is about to kill our beloved hero, Wikus, and in classic sci-fi horror style, Ventor is swiftly torn limb from limb by a group of 'prawns'. He just pushed them too far…
4. Species
If you're going to die, it might as well be with the beautiful Natasha Henstridge wrapped around you like a nice, wet flannel and naked in a hot tub. One might say you'd be the luckiest man on earth and then you watch Species. Ouch. It's enough to cool any guys erotic thoughts, though I could think of worse ways to go…
3. Predator
I shall admit, I found  this extremely difficult as I could not decide which one was the most awesome. The general sentiment is  that nearly every death in Predator is wonderful. Potential candidates were numerous thought it's Carl Weathers being deprived an arm, circled and impaled through the stomach, that takes the title. So, the best death in Predator goes to Dillon.
What a way to go. Aw come on…he's the bad guy!
(ps. Look out for Carl Weather's arm under his fake stump.)
2. Alien
If we didn't put this in we'd be simple rookies in a world of aggressive horror fans. Do you remember the first time you saw the xenomorph bursting through the chest of John Hurt? I do. My mother tells me her memories of going on a date to see Alien. She recalled the shock and terror of the audience and that people were vomiting in the aisles, while others left in disgust. The other actors react very convincingly which adds to the terror. Possibly because they were never told what John Hurt was doing…
It's over 30 years old but is still an incredible sequence and one of the most startling scenes in cinema history.
1. The Thing
The award for best death scene in this category goes to The Stomach Mouth from The Thing. Doc Copper is trying to resuscitate Charles Hallahan's Norris on an operating table. He grabs the defibrillator paddles and shocks him. He goes again and the stomach pops open, revealing a "mouth" full of nasty, jaggy teeth. The mouth clamps shut, relieving the good Doc of both arms.
Arguably the most unpredictable shock moment in horror history. A personal highlight. Actually, this full scene is one glorious cluster-fuck of death, fire and destruction…and it all happens within 2 minutes of screen time. I can barely describe it in words. My best advice is to watch it. It also leads up the one of the best one liners in the film 'You gotta be fucking kidding'
Oh yeah! Thank you, Mr Carpenter.
Feel free to let us know your favourite Alien kills in the comments below.