There really is no stopping the masterminds behind the excellent Grimm Up North Festival.
Not simply content with having one of the finest horror festivals in the UK, these guys like to keep the anticipation levels high by putting together an excellent calendar of events every month to nourish horror fans in the North of England.
Recent events have seen double bills of Four Flies On Grey Velvet and Dellamorte Dellamore, and Demons 1 & 2.
So what is next? Well, for a start, this time round, there will be THREE screenings on the night…
Friday April 27th will see the Grimmfest crew return to The Dancehouse, Manchester, to host a triple bill of Undead feature films.
Juan Of The Dead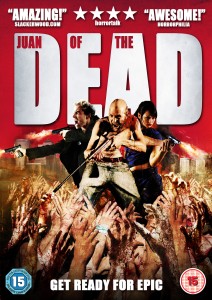 Cuba's first ever zombie film! Official media refer to the attacks as isolated incidents provoked by Cuban dissidents paid by the US government. Little by little Juan and his friends start to realize that the attackers are not normal human beings and that killing them is quite a difficult task. They're not vampires, they're not possessed, but they're definitely not dissidents; a simple bite turns the victim into other violent killing machine and the only way to beat them is destroying their brains…
War Of The Dead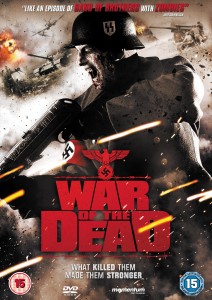 We didn't exactly send this one off with a good review when we caught it at Glasgow FrightFest, however, if you want some silly, almost video game-style nonsense, this could be the one for you. Just don't expect too much.
War Of The Dead follows a platoon of American and Finnish soldiers, driven deep into a Russian forest where their Captain discovers a terrifying secret. 
And last, but not least, the piece de resistance…
The Return Of The Living Dead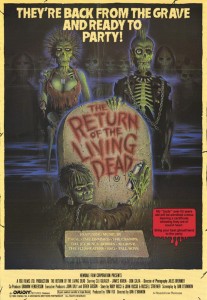 Dan O'Bannon's The Return Of The Living Dead is simply wonderful. A schlocky, slapstick horror comedy which stars the ludicrous double act of James Karen and Thom Matthews, alongside Clu Gulager, Linnea Quigley and Mark Venturini. When that barrel of 245-Trioxin bursts open, you are in for some serious fun…
In this genre defining classic, , three men and a gang of punks must do what they can to quell the threat that the now undead pose to an unsuspecting town., after the accidental release of chemicals that bring the dead back to life.
Now that's quite the line-up and I, personally, would pay the measly 8 quid to see ROTLD alone. So, want the full details, my Mancunian chums? Ok…
Venue: The Dancehouse
Tickets: £8.00

Start Time: 7.30pm
Cheap bar: Bottle beer from £1.50 per bottle!
SO GO!