At some point we have all sat in a cinema or relaxed with a film at home, something you've never seen only for something to suddenly scare the living crap out of you. These moments can be terrifying, shocking or actually quite funny. We have all seen some poor audience member jumping out of their skin in sheer terror.
Directors have employed the scare tactic for years. If done right, they work wonders in horror films which only adds to the experience. These moments have been used in many genres over the years, but let us stick to the best genre which of course is HORROR!
This top 10 list acknowledges what I believe to be the greatest jump scares in cinema. These are my personal highlights; please feel free to let us know what made you jump out of your seat, as there are thousands to choose from.
10. Jurassic Park – Raptor Attack
Lets start with a light-hearted scare from Steven Spielberg's brilliant Jurassic Park. The film was a huge success. Why? Well, everybody loves dinosaurs, and everybody wants to see dinosaurs eat people and tear them limb from limb! I saw Jurassic Park when I was ten years old and went on to see it seven times in total before it left the cinemas.
If you haven't seen this, then you are most likely dead.
So to the scare. Laura Dern's Ellie Sattler has just rebooted the security systems of Jurassic Park, returning power to the fences. All appears to be well before missing computer tech Arnold's arm drops on Ellie's shoulder, comforting her. Ellie turns round, hoping to find the grinning face of Samuel L. Jackson, but instead finds that the arm has been severed. Suddenly, a Velociraptor attacks her from the darkness behind. Cue everybody in the cinema jumping at the same time. The sound effects team did a great job with those raptor shrieks.
9. 28 Days Later – Infected comes through the window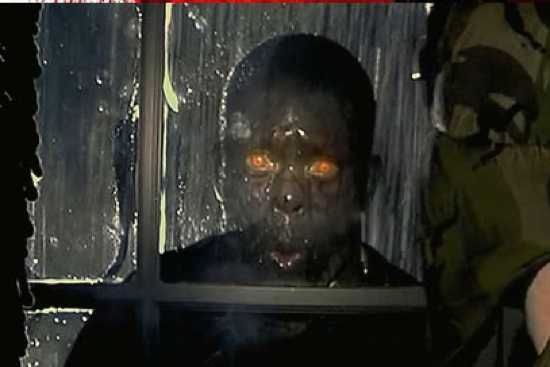 I was debating with John Milton over which scene to use for this. He favoured the car alarm scene and I could only agree that it was 'Jump out your seat worthy', but the prize goes to the Zombie Mailer bursting through the window, which I'd like to add, happens TWICE!!!
Mailer is cut free by our hero, Jim, before running wild while the shot pans to a poor soldier with his back to a window. Lightning strikes and we see the blood-red eyes of Mailer. More lightning and he goes for the kill. Great stuff!
8. Alien – The Facehugger
I have gone for the onscreen début of the nastiest creepy crawly that there is. The very dangerous, powerful and aptly named 'Facehugger'.
Kane's curiosity gets the better of him when he investigates a room filled with egg pods aboard a derelict ship. The top opens to reveal some slippery membranes and suddenly a Facehugger flies out from the egg, melting through his helmet and attaching itself to his face.  It's a cheap trick, but an effective trick at that.
The rest is history. The aftermath, legendary.
7. Se7en – SLOTH victim
Brad Pitt and Morgan Freeman are investigating an apartment which appears to have a dead body tied to the bed; the body is rotten and dried out. John Doe has cleverly littered the room with air fresheners in an attempt to mask the smell of decaying flesh.
As a poor cop leans over the body and whispers that this is exactly what the victim deserves, the "corpse" gasps and writhes around, very much alive, though past the point of any help. It set my heart racing for a while.
This actually happened to a police officer I know, (not the same circumstances, clearly) and it definitely scared the life out of him.
6. Jaws – Ben Gardner's corpse

Of all the things to frighten us most in Jaws, it wasn't the shark. It wasn't even Robert Shaw's sideburns.
No. It was Ben Gardner's corpse drifting out from the wreck of his boat, making me jump out my freaking skin. I'll never forgive my uncle for not warning me that this scene was inbound, rather choosing to laugh at my childish terror.
You got me hook, line and sinker, Mr Spielberg.
5. The Ring – Poor Katie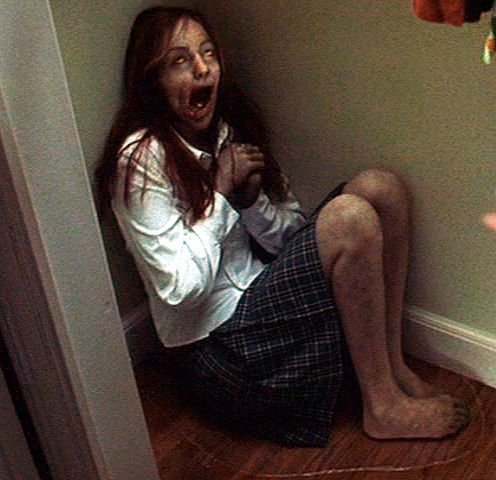 I tell no lie, this film scared the bejesus out of me and the  many millions who saw it. I watched one half then watched the second half 4 years later. Then I decided to watch the Japanese version. However, the biggest scare was in the American remake. It's easy to go for Samara coming through the TV but I felt this was the more 'immediate' shock.
Let me explain, we are shown how Katie's body is found and the camera quickly cuts to the terrified dead body in the closet before its head moves ever so slightly. New underwear please?
4. Audition – Asami's "companion
Johnny Organ is a huge fan of this terrifying J-horror masterpiece. The suspense in this film had my heart racing faster than John Milton's while watching topless darts!
Of all the scenes in Audition this one takes the cake. Asami lives in an empty apartment, containing a sack and a telephone. For four days after the audition, Asami sits in the middle of the floor next to the telephone, just waiting for the call, though when the phone rings, the sack lurches across the room and makes weird sounds.
Did not see that one coming, and the bit after it is just…disgusting.
3.Friday the 13th – Ending
Andy has the legendary image of Jason tattooed on his arm but not the likeness of Jason as he appears in his début outing.
Friday the 13th sees Jason looking a little different to the iconic unstoppable hockey masked killer we know. Alice has had the night from Hell and survived a murderous rampage at the hands of Mrs Pamela Voorhees.  Alice awakens in a canoe, in the middle of Crystal Lake to find police officers on the shore. She is safe. Her horror is over. However, as Alice rests in the canoe, the decayed remains of Jason leap up from below the surface and pull Alice underwater.
Aw yeah.
2. The Thing – Gut mouth
Yeah, this made my last list and I don't care what anyone says but NO-ONE could have seen this one coming. NO-ONE!!!! Doc Copper is trying to resuscitate Charles Hallahan's Norris on an operating table. He goes again and the stomach pops open, revealing a "mouth" full of nasty, jaggy teeth. The mouth clamps shut, relieving the good Doc of both arms.
It is safe to say I nearly had a heart attack watching this scene as a kid, personally I couldn't get this scene out of my head for days.
1. Carrie – Carrie White Burns In Hell
Never has a scene been so imitated, overused and parodied more than the final jump scare of Carrie. With all due respect this adaptation of the Stephen King classic excels in the terror department, and I can't blame people for paying homage to it.
Sue, the only survivor of Carrie's prom night rampage, visits the plot where Carrie's house once stood.  She places flowers on the ground before a bloody hand reaches out and grabs Sue's wrist.
Man Alive.
So there you have it, please share your personal favourites if you have any.
BOO!