I can't believe it's been 25 years since the dawn of everything Predator. Today marks the 25th anniversary of John McTiernan's Predator. Predator was released in 1987 to a mixed critical reaction, however over the years reception has warmed, The Predator legacy is strong and continues to this today. Predator spawned 2 sequels with Predator 2 and Predators. This continued onto the Alien vs Predator universe which has seen two movies hit the big screen.
Predator is arguably one of Arnold Schwarzenegger's best films. Arnie excels as Dutch, the leader of the ill-fated 'Rescue Team'. Predator has so many aspects of awesomeness that I don't know where to begin . The characters are the key factor, they are so likeable and you hate to see them get mutilated by The Predator. It has a magnificent supporting cast featuring the larger than life personalities of Bill Duke, Carl Weathers, Sonny Landham, Jesse Ventura, and not to forget, the leviathan himself Kevin Peter Hall who takes the title role.
One cannot mention The Predator without giving a nod to the genius of Stan Winston who created the Rastafarian warrior as we know him  today. The full concept and idea behind the  very ethos of Predator  is extremely well thought out and inspired. It takes great imagination and skill to come up with a character with such a rich backstory.
It's hands down my favourite action/horror movie of all time. It has aged considerably well. This film has enough action for adrenaline junkies, enough blood and severed limbs for horror freaks. You can still feel the great suspense after all these years watching it. It's the ideal popcorn flick, and I'll still be watching it in 25 years.
Predator has the most basic of life's lessons in which we all should live our lives by, the meanings are there, you just have to read deeper into the dialogue. Stick around….. I have dissected the meanings of the quotes and listed the top 10.
10. 'If it bleeds, we can kill it' – Dutch
Simple, effective, and 100% true. Dutch inspires optimism to his rescue team who are clearly are shaken by the mysterious assailant hunting them one by one. Dutch is rational and his team benefit from this, most difficult situations can be dissolved by rationalising.
9. 'You're ghostin us motherfucker, I don't care who you are back in the world, you give away our position one more time, I'll bleed ya, real quiet, leave ya here, got that?' – Mac
Sometimes you just have to lay down the law and take charge of your situation, If you're unhappy about anything in your life, YOU are the only one that can do anything about it, so take charge, did Mac want to get in an ambush? NO. Mac said his bit, Dillon was left speechless, but you'll notice Dillon never gave away the position once after that. Take charge!
8. 'Bunch of slack-jawed faggots around here, this stuff will make you a god damned sexual Tyrannosaurus, just like me' – Blain
What I love most about this is how he offers the crew chewing tobacco, challenges the rescue team's sexuality then boasts that he is far superior than his counterparts, yet he wants them all to be as tyrannic as him. Got to love a bit of male banter, it inspires confidence and builds rapport. Important for any team building exercise.
7. 'I aint got time to bleed'  – Blain
Focus is important, focus on the task at hand and get your priorities straight, Blain would never let a little blood loss stand in the way of his goals, he's part of a team that works together to get the job done. Imagine if he'd stopped to tend his wounds? The team would have fell apart. FOCUS!
6. 'Dutch, the General's sayin' that a couple of our friends are about to get squeezed, and we can't let that happen. We need the best. That's why you're here.' -Dillon
Cut the bullshit, as much as we respect our figures of authority, sometimes you have to get straight to the point, no-one likes ramblers, stick to the facts and keep it simple. You don't want to be thinking about unnecessary information when you're crawling through the jungle, it's a waste of energy and time.
5. 'What's the matter? The CIA got you pushing too many pencils?' – Dutch
Desk jobs are tough, it may not seem it at the time but years of sitting in the same chair for 8 hours, 5 days a week can really physically damage the body. Look at Dillon, he's the weak link. His time behind the desk has made him physically sloppy and inferior to Dutch's Rescue team. Keep on top of your game!
4. 'The only way outta here is that valley that leads to the east. But I wouldn't wish that on a broke-dick dog.' -  Billy
Forward planning is the key, The team could have wandered into the jungle aimlessly going in any direction, did they bump into any opposition? Of course not, they planned to avoid the enemy back up at all costs. Forward planning allows you to focus on the task at hand.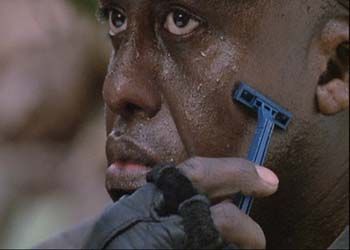 3. 'Long Tall Sally, she built sweet, she got everything, that Uncle John need. Aw baby, I'm gonna have me some fun, I'm gonna have me some fun, I'm gonna have me some fun.'  – Mac
Yes, these are the lyrics to Little Richards 'Long Tall Sally', this song is playing on Blain's stereo as the team are flying to their drop off point. The real focus of this quote is in the distressed maniacal ramblings of Bill Duke as he is hunting the Predator down. He wants to avenge the death of his best friend Blain. Friendship is important, and so is loyalty, Mac will do anything in his power to kill the Predator, even if it costs him his own life.
2. 'My team works alone, you know that.' – Dutch
When it comes to work we all have do things we disagree with or loathe doing, however, it's only work, just because you work with someone you dislike or detest the job on a moral level, doesn't mean you have to like it, it's all about tolerance. Negativity is damaging to performance, Dutch does what he's told. He follows orders and focuses on what's important.
1. 'Heat seekers Dillon. Pretty sophisticated for a bunch of half-assed mountain boys…' – Dutch
Dutch ain't stupid, he's no chump, he can smell the bullshit excreting from Dillon's Judas mouth. Liars are omnipresent in life and the key is trying to separate them from the good guys. Dillon got what was coming to him, and quite rightly so.
That concludes 'How to live your life by Predator'. I hope  these quotes influence in the best possible way.
On another note, when buying this on DVD I urge you  to check out the special edition disc as it  has a lot of great behind the scenes footage, interviews with the cast, and some deleted scenes which are worth a viewing.
It's simple, We move, 5 meter spread, no sound…