Short films are a great avenue for aspiring film makers to test their grit and hash it out the way they truly desire.
All it takes is a vision, and a crew of able and willing participants and a camera.  I shan't pretend that I have knowledge of this witchcraft first hand as it's only through Andy's recent endeavours in that area that I have I learned just how much is involved and  of the momentous effort that goes into these films, (which makes me look forward to his personal project Dysmorphia, all the more).
Which brings me on to Zach Green.
Recently, I had the distinct pleasure of watching Familiar, a terrifying horror short which grabs your attention (and your throat) from the get go, and never eases its grip. It really is a great and troubling film and one that I had no hesitation to recommend. It's so good that Familiar has been chosen as an Official Selection at the Fantasia International Film Festival 2012 in Montreal. Familiar will be screened as part of the festival on July 30th.
I was lucky enough to score an interview with Zach and I'd personally like to thank him for taking the time to answer my questions.#
Can you tell the readers of Andy Erupts about yourself and Fatal Pictures?
Fatal Pictures is myself as producer and Richard Powell, who is the writer and director. Richard and I have made three award winning short films so far and our latest film, Familiar, is currently on the film festival circuit.
What first got you nto filmmaking?
I first got into film-making after working in Post Production as an editor. That was my very first interest in the business. Richard had gone to film school for Production. We had met in third term and I ended up editing a short film he had written and directed. TRhe rest is history.
How did you go about pursuing your dream of filmmaking and do you have any hints and tips for up and coming filmmakers?
I ended up going to film school to get a foundation in what I wanted to do and happened to meet a great aspiring filmmaker in Richard. My advice? Work hard.
Out of all the genres you decided to make Horror (which is the best, obviously), what attracted you to this avenue of filmmaking?
Richard's genre of choice happens to be horror and he tends to write some of his best work in that genre. He grew up loving and watching all sorts of horror films, true crime etc. So naturally horror would be some of the first films coming out of the Fatal Pictures camp.
After years of making these films I've gained a real love and appreciation for horror myself. I love to make people really feel something strong, whether it be scared and afraid or possibly even sad. It makes me feel good that we can manipulate people and draw out such emotions, just from something we created behind a camera with a really talented team.
Familiar is on the film festival circuit now, how is the film being received?
Familiar just picked up its second award for Best Short film at A Nightmare To Remember 2012 in California as well as at Chicago Fear Fest 2012 in Chicago.
The film is getting some fabulous reviews and was also featured in issue #305 of Fangoria Magazine and in issue #125 of Rue Morgue Magazine. I'd just like to quickly say a big thanks to Familiar's sick DP, Michael Jari Davidson!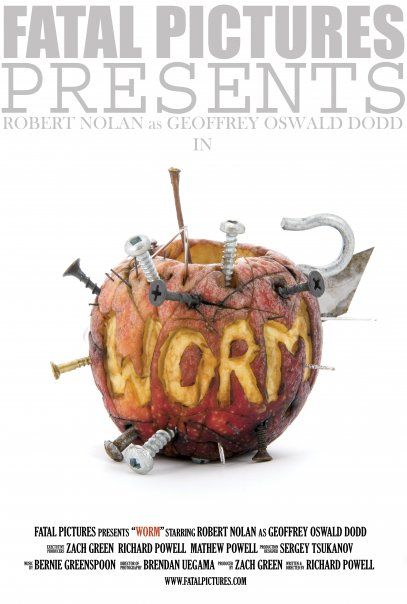 Can you tell us a little about Worm?
Worm is 20 minutes in the mind of a high school teacher who happens to be a failed writer and we go on a journey through his mind over the course of a school day.
How did the idea for the story of 'Worm' come about? I'll never trust a high school teacher ever again.
Basically, Richard came up with the idea for Worm while just brainstorming characters he might like to see in a film and putting himself in their shoes.
Let's talk a little about Robert Nolan. How did you find him and what made him stand out to you?
I found Robert through an actress that I had worked with a few years earlier. I immediately called Robert and told him about Worm and set up an audition.
He was phenomenal as G.O.D or "Geoffrey Oswald Dodd", the lead character in the film. Richard felt the same way, so we instantly cast him as G.O.D and never looked back.
How did Robert prepare for his roles in 'Familiar' and 'Worm', the characters definitely come from a dark mind.
Well of course Richard would coach him and practice his facial expressions and mannerisms. Robert was so good for these characters that it's almost as if Richard writes these films with Robert in mind. There would be rehearsals and blocking meetings and all of that good prep. Richard has a dark mind. What can I say?
 Let's move onto the excellent Familiar. Can you tell our readers what it's about?
Through a series of tragic events a middle-aged man grows to suspect that the negative impulses plaguing his mind may not be his own. That's all I can really say with out giving too much of the storyline away, I'm afraid.
Familiar's mood and setting is just so dark and grim. I love the tension. What were your main inspirations behind this?
The inspirations were really to make a physiologically intense dark drama "body horror-ish" film that really pushes the boundaries in a lot of aspects and one that really left a lasting impression on the viewer.
The main theme of Familiar is set around a man trapped inside his own life. Can you relate to John Dodd in any way?
Of course I can. These characters were created for people to relate to and hopefully enjoy. I don't want to pick out parts that I can relate to personally as that too could give the story away. Let's just say that I think there is something in the film we can all relate to.
I was originally dubious about watching short films as I didn't think there would be enough time to build story or character, but watching Familiar changed my attitude completely. What interests you about making short films as opposed to feature-length films? Did you face any barriers with regards to the pacing of the film as it runs in at 23 minutes?
Thank you very much for pointing that out. The only reason would be money.
If approached, would you both ever consider making Familiar a feature-length?
One hundred percent! We have a feature version of Familiar waiting.
The final scene in Familiar is quite simply horrific to watch. How did you go about filming it?
Finding a fabulous DP, which we did, and a fabulous Effects team, which again, we also did. Of course, just surrounding yourself with a fantastic crew of people over all helps.
What are you plans for the future?
To make feature films with Richard under the Fatal Pictures banner and really bring genre films back with fresh new ideas and scenarios.
Again, I'd like to thank Zach for his time and wish him all the best in his future projects.